New Jersey Date Night: Lettuce Eat Salad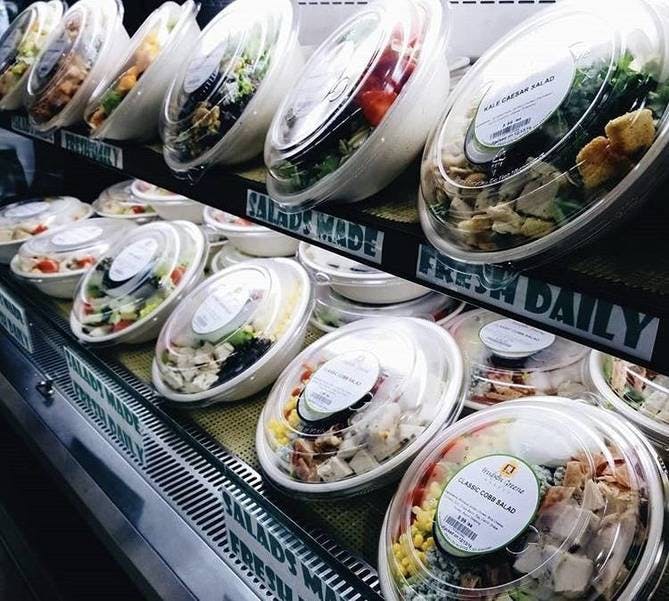 New Jersey Date Night is a series on NJ Flavor by relationship writer Craig Rogers.
The days following the holiday season can be rather heavy — we're heavy hearted that the celebrations are all over and heavier in the waistline from enjoying every last bite of the festivities.
In New Jersey it's difficult to say no to tasty treats like Christmas cookies and, frankly, you shouldn't because that's why we have January. The first month of the New Year is the perfect time to work off all the "fun" because every New Jerseyan knows that New Year's Day is 145 days away from Memorial Day weekend!
One way to get the ball rolling is to tighten up on the calories, but that doesn't mean date night can't be delicious. Being nutritionally aware, such as eating more salads, as a couple is the easiest road to success because having a partner makes the journey fun.
Get ready for a New Jersey Date Night guaranteed to help you lighten up!
Everyone is Getting Fresh
When it comes to healthy and fresh, you'll find both in spades at The Salad House. With locations in Somerville, Millburn, Morristown and Westfield, you'll find tempting salads with tons of flavor!
Choosing your salad components and having it prepared fresh is one way to go, but you might find yourself tempted by their creations. The Reel Love (arugula and baby greens with cucumber, edamame, carrots, pomegranate seeds, crisp wontons and grilled ahi tuna with house-made tamari thai ranch) and the Fit and Fueled (romaine with cucumbers, carrots, tomatoes, red onion, quinoa, feta and grilled chicken with house-made champagne vinaigrette) are excellent choices.
Be sure to check out their seasonal offerings like the Every Day I'm Brusselin' (shredded brussels sprouts and romaine with quinoa, dried cranberries, almonds, roasted butternut squash and shaved parmesan topped with champagne vinaigrette).
For more information about The Salad House, visit www.thesaladhouse.com.
What's in Your Bowl?
A light and healthy bite doesn't have to lack bold and ample flavor and Art of Salad proves that bowl after bowl. With locations in East Brunswick, Long Branch and Piscataway, the only thing more convenient is the ability to create your own salad masterpiece from their long list of ingredients.
You can also choose one of their classic offerings including the ThaiRRific Salad (romaine, red cabbage, black beans, carrots, cilantro, peanuts and grilled chicken with miso-ginger dressing). Others include the BBQ chicken salad (romaine, avocado, corn, fried onion straws, cheddar, cilantro, red onion, tortilla and grilled chicken with BBQ ranch dressing) and the mandarin chicken salad (romaine and spring mix, cheddar, corn, craisins, apples, candied walnuts and grilled chicken with honey mustard dressing or balsamic vinaigrette). Top off your meal with one of their cold-pressed juices!
For more information about Art of Salad, visit www.artofsalad.com.
Choices and More Choices!
Salad Shack in Long Branch is on the ready to give you more choices than found on any online dating app. Their menu will give you options from breakfast to burgers, but you're guaranteed to be impressed with their assortment of salads.
The Greek Shack Salad (romaine, grape tomatoes, cucumber, Kalamata olives, feta, red onion and pepperoncini with Greek dressing) is a crowd pleaser, as is the Shrimp Shack Salad (romaine, tomatoes, avocado, red onions, black bean corn salsa tortilla strips and blackened shrimp topped with a lime-cilantro dressing).
Even ladies can enjoy the Man Shack Salad (romaine, tomatoes, crumbled egg, cucumbers, red peppers, Jack cheese, black bean corn salsa with both grilled chicken and grilled steak topped with ranch). Save some room for a smoothie dessert, as there are lots of tasty choices including The Beachcomber, with vanilla yogurt, strawberries, bananas, peanut butter and granola.
For more information about Salad Shack, visit www.saladshacklongbranch.com.
Couples Who Lunch
Nothing breaks up the workday more than a lunchtime date, and Hudson Greene Market in Jersey City makes it super easy to spend more of your lunch hour with your other half.
Here, you can construct your perfect salad online and it's ready upon your arrival. With more than 50 toppings ranging from apples to walnuts, you're sure to find exactly what you want. They also offer 22 dressing options ranging from creamy caesar to sesame ginger.
For more information on Hudson Greene Market, visit www.hudsongreenemarket.com.
Serving of Salad or a Side of Sabotage?
Eating healthy and improving fitness always tops the list of New Year's resolutions. Since getting fit is always the number one resolution, one can assume that the efforts in the prior year might not have been successfully realized. Couples have the advantage at getting it right this year if both partners are 100% committed to the healthy goal. But if one isn't on board the other will be facing the mission alone, and it isn't so fun when your partner's holding a bag of chips instead of a bowl of green.
As part of a couple it's important to support our other halves in all endeavors, including healthy meals on date night. Thanks to salads you can have the flavor, the health and the satisfaction of accomplishment.
Craig Rogers is the guy who gets relationships write. Author of The 49th Challenge, Craig has written countless articles on dating, relationships and breakup recovery. To learn more about Craig, visit www.CraigRogers.nyc.
What's your idea for a great New Jersey Date? Tell Craig all about it at crogersnyc@gmail.com.