Main content starts here, tab to start navigating
Why The Salad House?
Founded in 2011 and franchising since 2017, The Salad House is a health-conscious fast casual restaurant brand that serves up fresh, made-to-order customizable salad creations. In addition to its various salad menu items, we also offer sandwiches, wraps, soups, appetizers and smoothies.
We have five locations open in New Jersey with three more signed and committed to opening. Our success can be attributed to its large menu variety which caters to most diets and food restrictions, its streamlined systems, and strong third-party relationships.
With our strong model and our delicious menu, are positioned for incredible growth and we are excited to see our brand continue to expand its presence. We are currently seeking multi-unit franchisees in the New York and New Jersey area, but other available territories include Connecticut and Pennsylvania.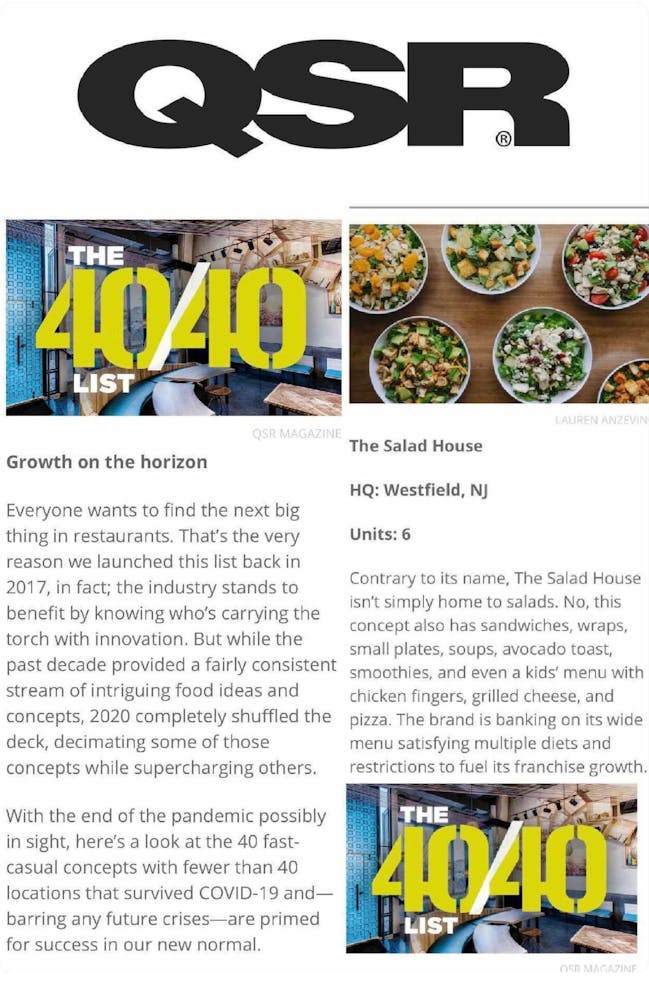 Franchisee Benefits
Operations & Training
Proper training is essential for our franchisees to thrive in running their House. From zero to launch, and beyond, we are with you each step of the way.
Location Scouting
Utilizing a data driven approach, we work with the franchisees to identity prime locations, while also offering support in lease negotiations.
Marketing & Social Media
Our marketing guidance is designed to help franchisees continually grow their business on a budget. We also offer strong corporate branding support.
Financing
We assist our franchisees throughout the entire financing process - helping them obtain the loan for the remainder of the total investment.
Ongoing Support
We are a growing brand and welcome each of our franchisees as team members and offer continued support through regular visits, meetings, and calls.
Supplier Assistance
All of our suppliers are approved and trustworthy. We have worked hand in hand with all of our suppliers to negotiate the best Cost of Goods.
Ready to Be Your Own Boss?